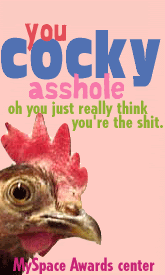 McDade, you really do.
Calling out to all his Hell's Angels "friends?" Is he sniffing glue?
Read the above post Michael McDade made on Facebook last year, and read it closely.
He's serious. Take particular note of the highlighted paragraph.
3,000 joined him? NO, I don't think so.
Note in this screenshot that:
A) He calls out to the Hells Angels, then claims they joined forces with him.
LIES. He thanks them! NO ONE HELPED THIS LUNATIC.
B) He posted Trent Reznor's video for PETA. That was almost a year ago.
He is now reposting the very same video AS HIS OWN, claiming it is a collaboration
with Trent Reznor and PETA. It's posted on both his YouTube channels.
Seal Shepherd needs to be exposed. He is becoming far more active, and convincing many people that he is an organization that is actually helping the seals of Canada and beyond. He's a savvy liar, as are all narcissists, and he sells his "product" quite well.
[NOTE: Sacha Cohen IS Michael McDade, aka Seal Shepherd]
"Sacha Cohen," what exactly are you asking of here?
Maybe you want to explain it to PETA? Trent Reznor?
Could you explain it to the naive people who joined your Change.org community?
Dig that hole, buddy... dig that hole.
Here is a link to a partial screenshot of one of a handful of original Seal Shepherd posts asking for the Hell's Angels. Yes, this one was made by him and not by his fake alt. sock account.
http://twitpic.com/2i3lnr/full
Here's the FULL POSTINGS as seen on Facebook. These posts are still available on Facebook, in many different groups, both private and public. This was the easiest to view.


Seal Shepherd, What the fuck is this?
This is me, I'm The

Seal

Shepherd

. I lead one half a million people against the

seal

slaughter in Newfoundland Canada. I go out on the ice and face off with sealers. I use brutal tactics that have never been used in the history of Canada, like unleashing my 81 (Hells Angel) friends on the sealers themselves. I've been in the media in NL, and have many requests to do media there to which I declined. The Playboy playmate I dated last year is Sia Barbi of the Barbi Twins. Some of my friends and supporters are Paul McCartney, and Julian Lennon (John Lennon's) son. He is offering me much needed support. I talk to him weekly,'he's awesome guy. A lot of celebs contact me as they know the

seal

issue is one that can revamp their career, as my seals are "cute." Some of them like Lennon and Pam Anderson are genuine friends tho.

So, please don't "out me" on the forum
_______________________________________________________
#1 — Sia was NEVER a Playboy Playmate, you fucktard.
#2 — Sia NEVER had a relationship with YOU, you delusional schizophrenic narcissist. Maybe you had one with her... via photos. Can we all say EEEUW?
#3 — You actually think Paul McCartney and Julian Lennon support you? Hahahahahaha!!!! Post proof of this supposed support, please. We all would love to see it.
#4 — A lot of celebs contact you? I would bet! How many Cease and Desist letters do you receive per week?
Now to the hardcore shit, buddy.
#5 — Everyone would like you to man up and explain your comment, made several times — like above — where you state quite clearly that you are unleashing your 81's (then you go out of your way to state Hells Angels) on the sealers themselves. Are you promoting.... what, Michael? And cupcake, they are NOT YOUR FRIENDS.
SEEK MENTAL ATTENTION IMMEDIATELY.
The only TWINS Seal Shepherd tried to have a relationship with
(and FAILED)
are the Kit Kat Twins of London. He was turned down. Noor and Zayna Ellemore wanted nothing to do with him and told him to watch videos, buy DVD's... GET LOST.